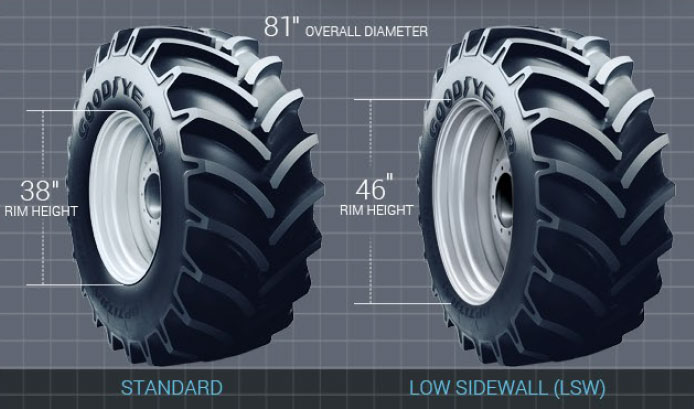 lsw 101: An overview of low sidewall technology
LSW® (Low Sidewall Technology™) helps equipment operators unlock greater productivity while taking on some of the toughest jobs in the world. LSW —a hybrid of our wheel and tire technologies — features a larger rim diameter and a smaller sidewall than a standard tire. This significantly reduces power hop, road lope and soil compaction, which improves equipment safety and performance. It also pairs well with equipment in several rugged applications, including agriculture, construction and mining.
LSW for agriculture
Conventional wheel assemblies lag behind when it comes to supporting the growing size and horsepower of today's ag equipment. This leaves growers with a tough decision; either purchase an expensive tracked machine or compromise on equipment performance.
LSW technology, on the other hand, costs less than tracked alternatives and offers better performance than conventional wheels. Its compact sidewall dampens the swaying motion while traveling at high speeds and eliminates power hopping in high-drawbar applications. It also allows for carrying weight at 40 percent lower inflation pressures than a standard competitive tire, reducing soil compaction significantly.
Because every grower has different needs, we offer LSW wheels and tires for a variety of equipment, including combines, tractors, grain carts and field sprayers.
LSW for construction and mining
Productivity is key to completing construction projects on time and hauling the most material out of the mine. That's why we design our LSW technology to improve equipment handling and performance. Its compact sidewall dampens equipment swaying and bouncing, which results in a smooth ride for the operator and less material spillage from a loader.
We also incorporate leading tire innovations into our LSW technology to withstand the harsh conditions in construction sites and mines. To give customers a variety to choose from, we are currently testing our LSW technology on a variety of equipment, including loaders, graders and articulated dump trucks.
Proving the concept
We literally reinvented the wheel for agriculture, construction and mining applications. It certainly didn't happen overnight. Bringing LSW technology to the market required several years of research and testing. Those years of hard work certainly paid off. Today, we offer LSW technology for a wide variety of equipment and adapt it to any foreseeable trends in the future. Here are some highlights:
Late 1990s — Titan CEO Maurice Taylor tasked engineers to develop larger wheel rims for heavy equipment, adapting proven automotive technology for off-the-highway applications.

1999 — We began producing LSW for a variety of equipment. For instance, Caterpillar contracted us to produce LSW for some of its skid-steer loaders.

2010 — After 10 years of continued development and testing, we released the first LSW technology for large ag equipment, which now includes tractors, combines, field sprayers and grain carts. This answered the demand for wheel assemblies that could support bigger and more powerful ag equipment that continues through today.

2012 — Produced LSW technology for Caterpillar's CAT 994, the company's largest wheel loader. We also began developing and testing more LSW-based solutions for construction and mining this year.

2014 — We launched a full-line of LSW technology for agriculture, construction and mining applications.