our company
Keeping you moving is our goal and legacy. Our commitment to quality and service traces back more than 120 years to the Electric Wheel Company in Quincy, Illinois.
Titan International Inc. is a global leader — as well as one of the largest North American manufacturers — of off-the-road tires and wheel technology for agriculture, construction, forestry and mining equipment.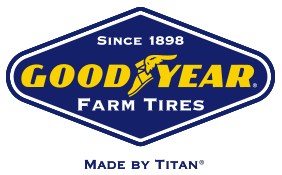 Goodyear Farm Tires
Goodyear Farm Tires, a Titan International Inc. brand, has almost 100 years of experience in the agriculture industry. A long history of tire innovations has made Goodyear Farm Tires a global leader for today's growers. We continue with that legacy of innovation by closely following equipment trends and incorporating customer feedback into our all designs.
Our legacy also includes supporting growers with our expansive dealer network. The network consists of nearly 1,200 dealers who are available day or night and have access to a diverse supply of tires. That's how we help ensure your productivity is at the forefront of every interaction.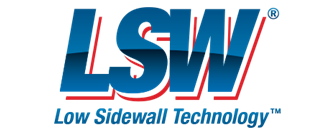 LOW SIDEWALL TIRES
LSW
Ⓡ
technology features a larger rim diameter and smaller sidewall than a conventional tire, while keeping the same outside diameter, inflation pressures and load capacity. This reduces road lope, power hop and soil compaction, which in turn, increases your productivity. We adapted this technology for off-the-road from the automotive industry during the late 1990s. We then grew it to take on the most challenging applications.

Titan Wheel Corporation
Titan Wheel Corporation, a subsidiary of Titan International Inc., is the world's largest manufacturer of off-the-road wheels. We are also the only off-highway wheel maker with a steel processing facility, which allows us to maximize efficiency and provide low costs to our customers. With a catalog featuring more than 50,000 products, you can easily find the right wheel size to fit your application.
Titan ensures that quality is paramount throughout the wheel design process. Our engineers use the latest processes and tools to develop the most advanced wheels in the industry. We have access to a variety of manufacturing capabilities — including rotary roll forming and submerged arc welding — in creating a final product that delivers on our commitment to quality.

Titan tire corporation
Titan Tire Corporation, a subsidiary of Titan International Inc., is one of the largest manufacturers of off-the-road tires in North America. We manufacture Titan and Goodyear Farm Tires brands for agriculture, construction, mining, forestry as well as ATV/UTV vehicles.
Like our wheel technology, it's easy to find a tire that fits your equipment and applications because our factories in Illinois, Ohio and Iowa produce tires ranging from 6 to 72.5 inches in diameter. You can rely on us for quality craftsmanship, effective tread designs and excellent durability because they're hallmarks of our entire product line.