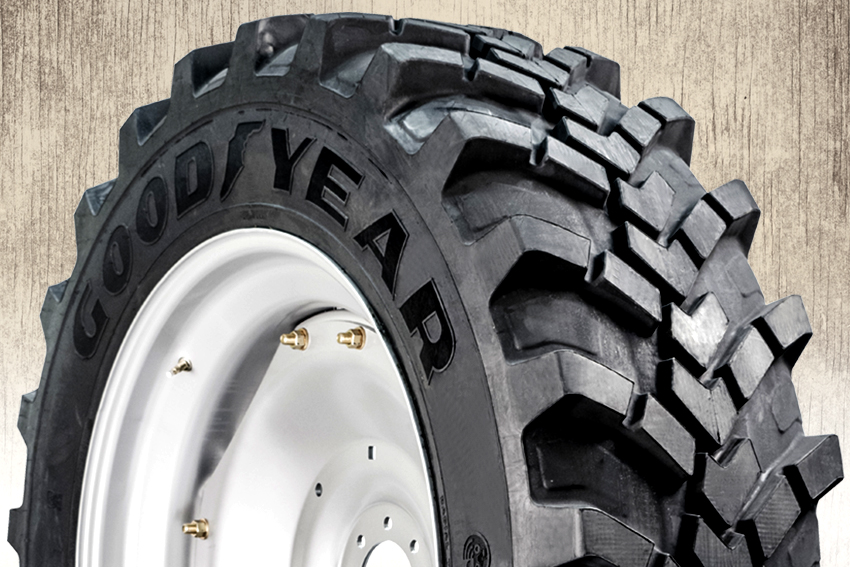 Titan expands industry-unique Goodyear R14T crossover tire line
Designed to perform in a variety of conditions, the Goodyear®R14T tire now comes in 14 new sizes
DES MOINES, Iowa— Titan International, Inc. (Titan) is pleased to announce the expansion of their versatile tire line for compact tractors, the Goodyear®R14T. The crossover tire — an industry-unique hybrid of different tread styles designed for any job in the field or around the farm — is available in 14 new sizes to allow owners of compact tractors up to 150.0 horsepower to enjoy the benefits of its versatility.
"We launched the first-of-its-kind R14T last year and have seengreat success," says Scott Sloan, ag product manager/global LSW for Titan. "Based on overwhelming demand from original equipment manufacturers and end users, we expanded this line to 18 total sizes, making this our premier tire line for nearly any subcompact tractor or loader, as well as any compact or utility tractor on the market."
The new sizes include:
23x8.50-12NHS

12-16.5NHS

27x8.50-15NHS

15-19.5NHS

18x8.50-10NHS

26x12.00-12NHS

320/85R24 LSW320/70R28

380/85R24 LSW380/70R28

460/85R30 LSW460/75R34

460/85R38 LSW460/75R42
The new options are in addition to the sizes that debuted last year:LSW340/70R28, LSW460/75R38, 340/85R24 and 460/85R34.
Before the development of the R14T, compact tractor owners had to either choose between three tread designs — R-1 (agricultural tire), R-3 (turf tire) or R-4 (industrial tire) — when purchasing a machine or change out their tires for different applications.
With the R14T, Titan engineers combined the traction and cleaning features of an R-1 with the wear and ride features of an R-4, along with the lessened tire disturbance that an R-3 tire delivers. From hard concrete surfaces to softer soils, snow and sensitive turf, the R14T is designed to perform equally well in any conditions.
For more information, visit titan-intl.com/R14T.
Titan International, Inc. (NYSE: TWI) is a leading global manufacturer of off-highway wheels, tires, assemblies and undercarriage products. Headquartered in Quincy, Illinois, the company produces a broad range of products to meet the specifications of original equipment manufacturers (OEMs) and aftermarket customers in the agricultural, earthmoving/construction, and consumer markets. In the United States, the company produces two distinct tire brands — Goodyear®Farm Tires and Titan Tires.
© 2019 Titan International
All Rights Reserved.
Please send all reader and sales inquiries to: corp.marketing@titan-intl.com
# # #