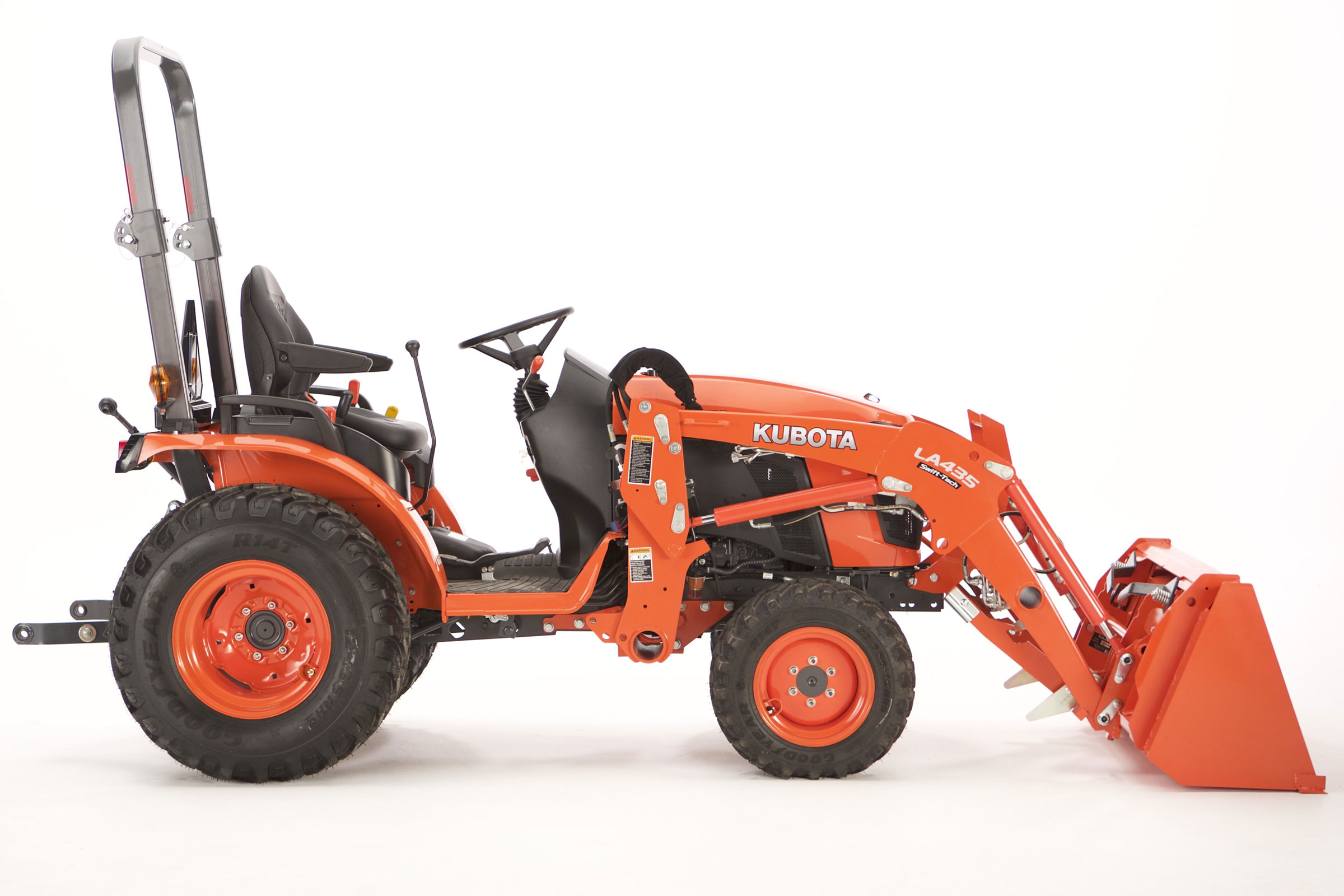 Kubota and Titan form exclusivity agreement for Goodyear® R14 crossover tire
QUINCY, Illinois — Titan International, Inc. (Titan) and Kubota Tractor Corporation (KTC) / Kubota Canada Limited (KCL) are pleased to announce an exclusivity agreement for Goodyear R14 crossover tires on select Kubota compact tractor models. As the first-ever exclusivity agreement KTC and KCL have chosen to enter with a tire manufacturer, it's a move that further strengthens the long-standing relationship between two industry leaders in compact tractors and compact tractor tires.
Prior to entering into the agreement, Kubota conducted significant testing on the Goodyear R14 tire — which features an industry-unique, new-to-market hybrid tread design combining elements of an ag tread (R-1), turf tread (R-3) and industrial tread (R-4). The results from slip and vibration testing showed the R14 tire as being the ideal fit between an R-1 and R-4, and according to Kubota — that's where the industry needs to move.
Kubota's outlook
"The vast majority of compact tractors on the market are being sold with R-4 tires, but there's a drawback when it comes to traction. If you go with an R-1, then you have more traction, but more vibration on hard surfaces. Up to this point, there hasn't been a tire as versatile as the compact tractors they're going on," said Jacob Sherman, Kubota product manager, compact tractors. "After testing the R14, we knew it could perform equally as well in the variety of snow, field, yard, loader and pasture applications our customers expect from our machines. That's why we wanted to jump on this opportunity. We believe the Goodyear R14 is a game-changer for our dealers and customers — it's one more factor that sets Kubota apart from the competition."
While the BX-Series and B-Series Kubota models included in the agreement will still offer many of the same R-1, R-3 and R-4 tires as options, according to Sherman, he expects "the majority of our customers will migrate to the Goodyear R14."
Titan's take
"We're really proud of the R&D that went into this R14 tire," said Scott Sloan, ag product manager for Titan and Goodyear Farm Tires. "We try to keep our finger on the pulse of our customers' needs, and we knew there was a serious unmet need when it came to tire versatility in the compact and subcompact market. We're excited that Kubota, as a leader in that market, shares our vision for the future of compact tractor tires. It's a great partnership that will ultimately benefit both our companies and our collective customers."
In addition to the sizes offered exclusively from Kubota at the OEM level, the Goodyear R14 line has been expanded to include a total of 18 sizes — both in standard and Low Sidewall Technology® (LSW®) options — offered in the aftermarket for compact tractors up to the 150 horsepower range. For more information, visit titan-intl.com/R14T.
About Titan International, Inc.
Titan International, Inc. (NYSE: TWI) is a leading global manufacturer of off-highway wheels, tires, assemblies and undercarriage products. Headquartered in Quincy, Illinois, the company produces a broad range of products to meet the specifications of original equipment manufacturers (OEMs) and aftermarket customers in the agricultural, earthmoving/construction, and consumer markets. In the United States, the company produces two distinct tire brands — Goodyear® Farm Tires and Titan Tires.
About Kubota Tractor Corporation
Kubota Tractor Corporation, Grapevine, Texas, is the U.S. marketer and distributor of Kubota-engineered and manufactured machinery and equipment, including a complete line of tractors of up to 170 Gross hp, performance-matched implements, compact and utility-class construction equipment, consumer lawn and garden equipment, hay tools and spreaders, commercial turf products and utility vehicles. For product literature or dealer locations, contact: Kubota Tractor Corporation, 1000 Kubota Drive, Grapevine, TX 76051, (888) 4-KUBOTA [(888) 458-2682], Ext. 900, or visit KubotaUSA.com.
Kubota Tractor Corporation supplies products and services to United States residents only. Kubota Tractor Corporation reserves the right to change the stated specifications without notice. These comparisons are for descriptive purposes only and do not provide any express or implied warranty of any nature, including any warranty of merchantability or for a particular purpose. For complete operational information, the operator's manual should be consulted. Kubota strongly recommends the use of a Rollover Protective Structure (ROPS) and seat belt in almost all applications. For information regarding Kubota products or services outside the United States, see Kubota Corporation's global website.
About Kubota Canada Limited
Kubota Canada Ltd. (KCL) is a subsidiary of Kubota Corporation, a tractor and heavy equipment manufacturer based in Osaka, Japan. KCL markets and distributes Kubota-engineered and manufactured equipment, which includes a complete line of tractors (up to 170-horsepower), performance-matched implements, compact and utility tractors, compact construction, landscaping and public work equipment, residential lawn and garden equipment, commercial turf products and utility vehicles. For product literature or dealer locations, contact Kubota Canada Ltd. at 5900 14th Avenue, Markham, Ontario L3S 4K4, Canada TEL. (1) 905 294-6535 FAX. (1) 905 294-6651 or visit: kubota.ca.
For more information contact: Kim Boccardi 217.228.4032 kim.boccardi@titan-intl.com
# # #
© 2019 Titan International
All Rights Reserved.
Please send all reader and sales inquiries to: corp.marketing@titan-intl.com