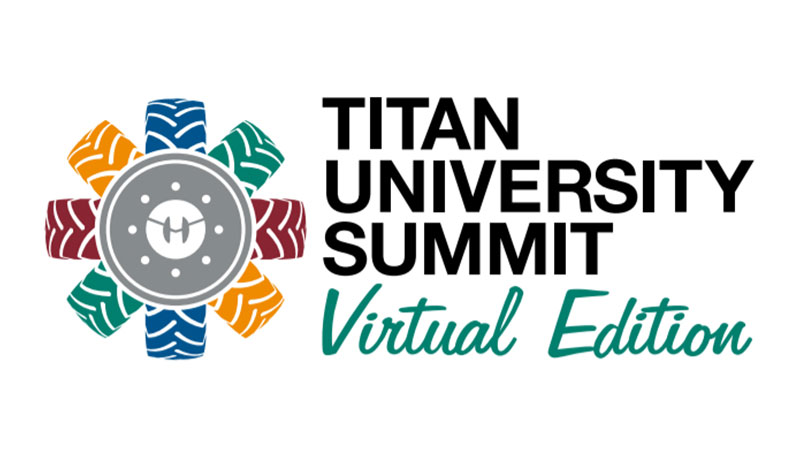 Titan's exclusive tire dealer training program goes virtual
Registration is open for the 2021 Titan University Virtual Edition: Mini-Summit & Boot Camp
QUINCY, Illinois — Titan International, Inc. (Titan) is pleased to announce the fourth year of its exclusive sales training program for tire dealers. Having reinvented the Titan University Summit in 2020 to allow for attendees to build their own learning experience, Titan has taken it a step further in 2021 by going fully virtual with a refreshed curriculum. Now known as the Titan University Mini-Summit & Boot Camp, this revamped program will allow virtual attendees to build their own customized learning experience.
The Mini-Summit format will feature new courses, aggressively revamped courses and popular courses in a convenient online format, as well as two new keynote sessions focused on market perspective and industry safety standards. The Boot Camp will highlight standard sessions that are refreshed with new data, product information and market intel. These programs are designed for everyone from entry-level to advanced students in any dealership role including sales, purchasing, marketing, customer service and support.
"Reinventing Titan University into a virtual format was one of our top priorities at Titan," says Paul Hawkins, senior vice president of aftermarket sales at Titan and Dean of Students for the Titan University training platform. "Whether they're focused on agriculture, construction, forestry or all of the above — we want to provide our dealers with safe and accessible training options to help them achieve their unique business goals.
"Safety courses continue to also be a training priority at Titan," says Kim Boccardi, vice president of marketing and director of content for the Titan University training platform. "We have new keynote sessions from A&M Safety and Environment as well as Matt White with TIA to assist our dealers with safety education of their staff. Returning home safely every night to their family is priority number one."
Sessions will include categories such as:
• Priority product feature and benefit information
• Effective selling strategies
• Competitive product positioning
• Targeted sessions by segment and application
• Industry keynote speakers
• Training and education tracks; entry-level to advanced
• Other topics beneficial to daily operations
Titan University Virtual Edition: Mini-Summit & Boot Camp is open exclusively to Titan dealers and Titan Strong Seller Associate dealers. Those interested should contact their Titan Territory Sales Manager or the Titan Corporate Marketing department to register.
Titan International, Inc. (NYSE: TWI) is a leading global manufacturer of off-highway wheels, tires, assemblies and undercarriage products. Headquartered in Illinois, the company produces a broad range of products to meet the specifications of original equipment manufacturers (OEMs) and aftermarket customers in the agricultural, earthmoving/construction, and consumer markets. In the United States, the company produces two distinct tire brands — Goodyear® Farm Tires and Titan Tires.
© 2021 Titan International
All Rights Reserved.
Please send all reader and sales inquiries to: corp.marketing@titan-intl.com
# # #
For more information contact:

Kim Boccardi

217-228-4032

Kim.Boccardi@titan-intl.com