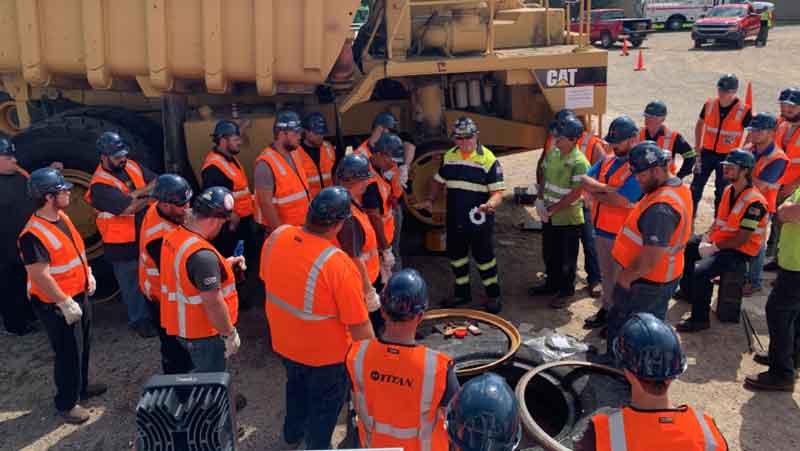 Titan and partners host revamped, hands-on TIA tire service training
BOONE, Iowa, <August X, 2023> — Titan International, Inc. (Titan) is proud to partner with the Tire Industry Association (TIA) in hosting advanced tire service training with the intent of further improving safety and technical service knowledge in the tire industry. The training, held for two weeks in July, focused on both wheels and tires in Ag and OTR applications and brought in a range of expert partners including Stellar Industries, Fuller Brothers, AME International and Intercomp.
"It's wonderful to see the level of importance that Titan, all the partner companies and all the participating dealers place on the safety of tire technicians," said Matt White, director of tire service at TIA. "It's events and companies like these that help TIA accomplish our mission of improving safety, and ultimately, saving lives."
Classroom trainings
The first two days focused on classroom training that followed TIA-developed programs, including the Farm Tire Service 200-level program with 11 different modules, as well as the Earthmover Tire Service 200-level program with 15 different modules.
Hands-on training stations
Following the classroom trainings, Titan brought in a range of partners to its Boone, Iowa training facility on day three — setting up six stations for foundational hands-on training to prepare for day four in the field.
Stellar Industries: Service truck instruction


Service truck manufacturer, Stellar Industries, set up two truck stations — one focused on preventive maintenance instruction for service trucks and the other focused on safe and efficient operation of the tire manipulator.





AME International (AME): Tool training


AME, a worldwide supplier of tire service tools and accessories, provided training on the safe use and maintenance of cribbing tools and lifting tools, as well as lock out/tag out instruction.





Titan OTR specialists: Wheel inspection and tool use


Titan's team of OTR specialists provided instruction on wheel and component inspection, measurement, identification of issues, and the use of Titan OTR profile gauges.





Fuller Brothers: Wheel and tire life, mounting and dismounting


Led by Fuller Brothers, a leading producer of specialty fluids, sealants and lubricants for the tire industry — this session focused on the use of products such as Tire Life and White Lightning (named after Matt White of TIA) during mounting and dismounting.





Intercomp: Conducting machine weigh-ups


Titan's team of Ag specialists partnered with Intercomp — a leading manufacturer of industrial scale and weighing equipment — to guide participants through machine and tractor weigh-ups and how to properly inflate tires and ballast machines.





Titan Ag specialists: Dual hub wheel training


Titan's Scott Sloan, Global LSW/Ag Product Manager and his team of Ag specialists conducted training on the latest dual hub wheel technology commonly installed on larger 4WD tractors, including review of training materials and hands-on use of the locking mechanism.




In-field training sessions

Following day three's hands-on instruction, participants were brought to Stellar Industries' brand new training grounds in Garner, Iowa to apply what they learned in real-world scenarios. This included four mounting/dismounting stations — one for a John Deere sprayer, a John Deere spreader, a CAT rigid haul truck and a Case wheel loader. Led by TIA's Matt White, the team of industry experts from Fuller Brothers (Craig Tinklenberg), Stellar Industries (Travis Glidden and Tom Formanek) and AME International (Don Tinker and John Melosci), as well as multiple Titan Ag and OTR specialists were on site to monitor and coach participants through various exercises.

"While Titan has hosted TIA trainings annually since 2017, this year was undoubtedly the most comprehensive — thanks to the hands-on training made possible by all the participating partners," said Kim Boccardi, VP-Marketing at Titan. "We'd like to thank TIA, Stellar, AME, Fuller Brothers and Intercomp for their dedication to advancing the safety and technical knowhow of nearly 80 tire technicians who attended this year from more than 35 Titan dealers across the country."
# # # #

PHOTOGRAPHY FOR MEDIA
About Titan International, Inc.
Titan International, Inc. (NYSE: TWI) is a leading global manufacturer of off-highway wheels, tires, assemblies and undercarriage products. Headquartered in Illinois, the company produces a broad range of products to meet the specifications of original equipment manufacturers (OEMs) and aftermarket customers in the agricultural, earthmoving/construction, and consumer markets. In the United States, the company produces two distinct tire brands — Goodyear® Farm Tires and Titan Tires.
Media Contact:
Kim Boccardi
217-228-4032