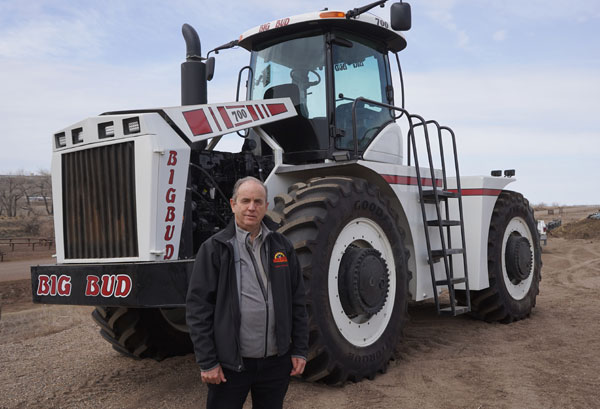 QUINCY, Illinois — Titan International, Inc. (Titan) is proud to partner with Big Equipment Company in bringing a new 2023 model Big Bud 700 to the Titan booth #933 at Farm Progress 2023 in Decatur, Illinois. Additionally, Titan will be showcasing the latest tire technologies, doing daily giveaways, raising funds for Indiana/Illinois FFA, and hosting meet-and-greets with influential farming personalities including the Welkers, Brian Brown of Brian's Farming videos, Cole the Cornstar, and Farm Fit Momma.
See the Big Bud 700 and meet its creator
For the first time in 40 years, Big Equipment Company is producing brand new Big Bud tractors. The Big Bud 700 was built with two primary principles in mind — easy and unrestricted repairability by the owner, and a heavy-duty frame and components capable of the toughest farming and construction applications.
"It's not uncommon for our old Big Buds to run strong for decades, even into the 40,000-hour mark," said Ron Harmon, owner of Big Equipment Company. "We wanted to duplicate that again by making everything easily accessible, with common parts and no restrictions on the owner in terms of repairs. But we also wanted to make it heavier duty than anything we've made before."
Built upon a 1.5-inch thick frame and heavy-duty CAT 988 HD axles typically used on large mining loaders, the Big Bud 700 features a 640-horsepower CAT drivetrain that's easily accessible.

"You can build a heavy-duty tractor and one that's accessible, but if you can't get the power to the ground, it doesn't do you a lot of good," added Harmon. "That's why we've selected LSW tires as the primary tire we recommend people use on our tractors."
The Big Bud 700 is available with multiple Low Sidewall Technology® (LSW®) configuration options, including dual or single Goodyear® Optitorque® LSW710/65R46 R-1 tires, ideal for scraper applications, all the way up to the world's largest farm tire — the Goodyear® Optitrac® LSW1400/30R46 R-1W.
Ron Harmon will be in the Titan booth all three days of the show and will hold a formal meet-and-greet with visitors on Tuesday, August 29 at 1:00 in the Titan booth. Buy a Big Bud

t-shirt in the booth and 100 percent of t-shirt sales will benefit the Indiana/Illinois FFA.
Meet your favorite Titan Brand Ambassadors (and see their equipment):
Welker Farms

will be bringing their "Big Brute" — a one-of-a-kind custom sprayer built to resemble a series 3 Big Bud tractor — which was

recently upgraded

with Goodyear

®

Optitorque R-1 tires. Look for the Welkers and their Big Brute throughout the show in the Titan booth.

Brian Brown of

Brian's Farming Videos

will be in the booth, alongside his Fendt 1038 featuring Goodyear Optitrac LSW1400/30R46 and LSW1000/45R32. He will also be hosting a meet-and-greet on Wednesday, August 30 at 1:00 in the Titan booth.

Cole the Cornstar

will be in the booth throughout the show, alongside his Case Magnum 340, featuring the world's largest farm tires — the Goodyear Optitrac LSW1400/30R46. Donate to the Indiana/Illinois FFA and you'll get to play cornhole with the Cornstars for a chance to win some larger prizes. A formal meet-and-greet with Cole is also scheduled for Wednesday, August 30 at 1:00 in the Titan booth.
Farm Fit Training (FFT), and its mastermind FarmFitMomma, Amanda Nigg, will be hosting a number of different kid-friendly activities and challenges in the booth focused on physical and mental health. FFT and Titan will be raffling off a prize pack worth $5,000 with 100 percent of raffle ticket sales donated to the National FFA organization.
Big giveaways, big savings
As Farm Progress Show's official wristband sponsor, Titan will be offering $200 off any purchase of $1,000 or more to showgoers. Additionally, visitors can stop by the booth to enter to win daily giveaways of $2,500 tire rebates toward the purchase of Titan and Goodyear® Farm Tire products.

# # #
About Titan International, Inc.
Titan International, Inc. (NYSE: TWI) is a leading global manufacturer of off-highway wheels, tires, assemblies and undercarriage products. Headquartered in Illinois, the company produces a broad range of products to meet the specifications of original equipment manufacturers (OEMs) and aftermarket customers in the agricultural, earthmoving/construction, and consumer markets. In the United States, the company produces two distinct tire brands — Goodyear® Farm Tires and Titan Tires.
Media Contact:
Kim Boccardi
217-228-4032