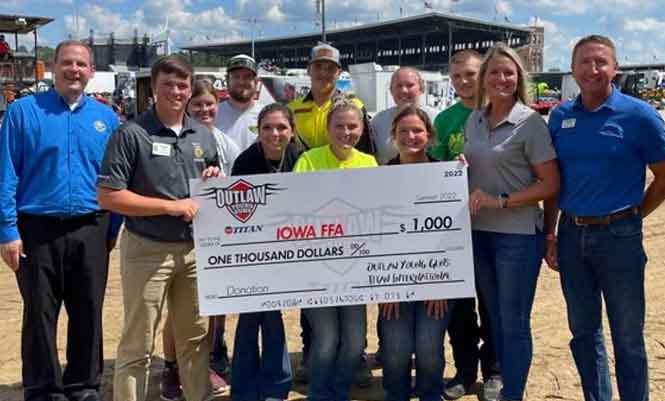 Titan and OTTPA Partner for a Second Season of YOUNG GUNS
Tractor pulls attract youth drivers and raise funds for FFA chapters across the country
CHICAGO, Illinois — Titan International, Inc. (Titan) and Outlaw Truck and Tractor Pulling Association (OTTPA) are proud to announce a second year of partnership after a successful first season of the Outlaw YOUNG GUNS program — a series of competitions created to engage and attract younger drivers to the motorsport, ranging in ages from 16 to 25. More than 30 youth drivers enrolled in the program last season.
As title sponsor of the YOUNG GUNS series last season, Titan also worked with OTTPA to identify opportunities to give back to the communities that hosted YOUNG GUNS pulls. Titan and OTTPA matched funds to present six $1,000 checks to FFA state chapters at events held in Whitewright, Texas; Montgomery City, Missouri; Mound City, Kansas; Des Moines, Iowa; Wisner, Nebraska; and Madison, South Dakota.
"We are so thankful to Titan for their commitment as title sponsor of the YOUNG GUNS program for a second season. We share the same values when it comes to investing in this country's youth and providing opportunities that build their confidence and help them grow," said Dave Nelson, executive vice president of OTTPA. "Last season was incredibly successful, and we look forward to continuing to grow the program this year with Titan's support."
"It was such a joy to witness firsthand the camaraderie and excitement from the YOUNG GUNS drivers, the crowd and the FFA chapters who benefitted from the program last season," said Kim Boccardi, vice president of marketing at Titan. "Investing in future ag leaders is something that we at Titan hold dear to our hearts, and supporting the YOUNG GUNS program is one of many great ways we can do that."
Years of support
Titan has been supporting the FFA for more than 20 years through tire auctions that have generated more than $1,000,000 in proceeds for FFA chapters across the country, as well as through the company's Antique Tractor Restoration Program, which has provided thousands of free tires for FFA and 4-H students who are working on restoration projects.
The upcoming season
The Outlaw YOUNG GUNS 2023 program will pick back up in June 2023 with pulls happening throughout the country. View the full schedule here. If interested in enrolling in the program, prospective YOUNG GUNS drivers must be between the ages of 16 and 25 during the 2023 pulling season, hold a General Outlaw membership and sign the Outlaw YOUNG GUNS code of conduct. For more information contact OTTPA.
# # # #
About Titan International, Inc.
Titan International, Inc. (NYSE: TWI) is a leading global manufacturer of off-highway wheels, tires, assemblies and undercarriage products. Headquartered in Illinois, the company produces a broad range of products to meet the specifications of original equipment manufacturers (OEMs) and aftermarket customers in the agricultural, earthmoving/construction, and consumer markets. In the United States, the company produces two distinct tire brands — Goodyear® Farm Tires and Titan Tires.
Media Contact:
Kim Boccardi
217-228-4032