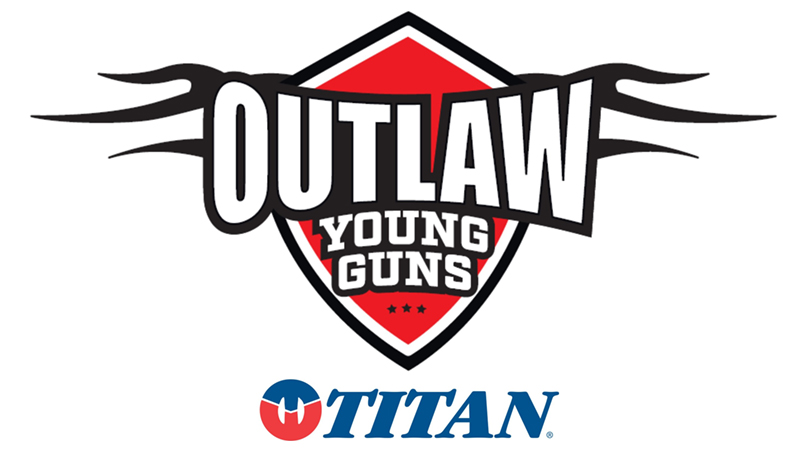 Titan sponsors Outlaw YOUNG GUNS program
Events for young drivers will be held across the Western Midwest and Central Corn Belt
QUINCY, Illinois — Titan International, Inc. (Titan) proudly announces their three-year title sponsorship of the new Outlaw YOUNG GUNS program from the Outlaw Truck and Tractor Pulling Association, creating a series of competitions, within their regular pulling schedule, for drivers 16 to 25 years old across the Western Midwest and Central corn belt states this summer.
"We are excited to be the title sponsor of the Outlaw YOUNG GUNS program and to partner with the premier pulling association West of the Mississippi," said Scott Sloan, Ag Product Manager at Titan. "Truck and tractor pulls have a long tradition with farming communities across the country and are a thrilling way to celebrate agriculture, and this program also complements Titan's mission to help develop future ag industry leaders."
Kelsie Davidson from Osceola, Nebraska and Tyler Paddock from Mound City, Kansas are the two YOUNG GUNS program co-chairs for the 2022 season. They will help organize and lead the program serving two-year terms, in addition to serving as delegates on the Outlaw General Board of Directors. Outlaw YOUNG GUNS drivers must be between the ages of 16 and 25 during the 2022 pulling season, hold a General Outlaw membership and sign the Outlaw YOUNG GUNS code of conduct.
"These young drivers are the future of pulling and the future of ag," said Dave Nelson, Executive Vice President of the Outlaw Truck and Tractor Pulling Association. "By creating a platform like this, we can help influence their pulling success, their careers and their lives. This is a program where we can help these youth grow through the motorsport of truck and tractor pulling."
Titan's title sponsorship continues the company's long tradition of supporting organizations that work with young people interested in agriculture. This includes the company's antique tractor restoration program, which has provided thousands of free tires to National FFA and 4-H student members for tractor restoration projects since 1996.
"The Outlaw YOUNG GUNS is a unique program that will help build confidence, create friendships and provide mentorship for the participants," said Kim Boccardi, Vice President of Marketing at Titan. "We can't wait to see what these young people do with the opportunities it will provide."
For more information about Titan, visit titan-intl.com.
About Titan International, Inc.
Titan International, Inc. (NYSE: TWI) is a leading global manufacturer of off-highway wheels, tires, assemblies and undercarriage products. Headquartered in Illinois, the company produces a broad range of products to meet the specifications of original equipment manufacturers (OEMs) and aftermarket customers in the agricultural, earthmoving/construction, and consumer markets. In the United States, the company produces two distinct tire brands — Goodyear® Farm Tires and Titan Tires.
About the Outlaw Truck and Tractor Pulling Organization.
Outlaw Truck and Tractor Pulling Association is a national sanctioning body of truck and tractor pulling in the Midwest. Headquartered in Rock Valley, Iowa the Outlaws produce over 60 events across the Midwest in motorsports parts, fairgrounds and grandstand arenas in IA, MO, OK, TX, KS, NE, CO, SD. The Outlaws are currently comprised of 2 divisions known as the National Division and the Heartland Division.
# # #
© 2022 Titan International
All Rights Reserved.
Please send all reader and sales inquiries to: corp.marketing@titan-intl.com
For more information contact:
Kim Boccardi
217-228-4032