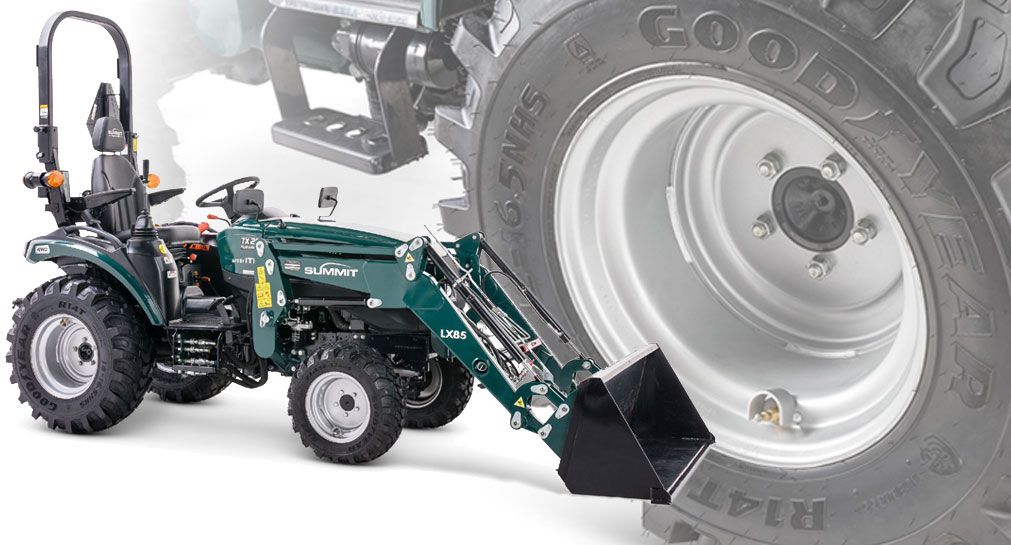 Titan International enters into long term agreement with Summit Tractors
WEST CHICAGO, Ill., March 2, 2023 -- Titan International, Inc. ("Titan," NYSE: TWI) and Summit Tractors LLC ("Summit") have entered into an agreement for tire & wheel assemblies for compact tractor models used in residential, commercial, and agricultural applications. This innovative Goodyear® R14T™ tire, made by Titan, will provide Summit tractor owners the durability and performance to handle numerous applications.

"When it came time to selecting our tire & wheel partner, we didn't need to look any further than Titan," said Summit's Founder & Chief Executive Officer Doug Rehor. "Their Goodyear R14T tires provide Summit brand tractor customers with the most versatile, high-performance tire technology available, blending the best characteristics of the R-1 ag, R-3 turf and R-4 industrial tires into a single tire. As we endeavor to include as much U.S. made products within our overall portfolio, the American made tire & wheel assemblies from Titan add to the overall value of our line of compact tractors and related equipment."

"Titan is delighted to be partnering with Summit as they build out their footprint through leading farm & ranch and home improvement retailers," said Paul Reitz, Titan International CEO. "This partnership brings together Titan's innovative and high-quality off-road tires and wheels with Summit's strong and growing retail distribution."
# # # #
About Titan International, Inc.
Titan International, Inc. (NYSE: TWI) is a leading global manufacturer of off-highway wheels, tires, assemblies, and undercarriage products. Headquartered in Illinois, the company produces a broad range of products to meet the specifications of original equipment manufacturers (OEMs) and aftermarket customers in the agricultural, earthmoving/construction, and consumer markets. In the United States, the company produces two distinct tire brands — Goodyear® Farm Tires and Titan Tires.
About Summit Tractors LLC

Veteran owned and operated Summit Tractors LLC, Atlanta, Georgia, distributes its Summit brand compact tractors and related equipment through the largest and most well-known and respected farm & ranch and home improvement retailers. For product information and retailer locations, contact: Summit Tractors LLC, 3379 Peachtree Road NE Suite 555, Atlanta, GA 30326, (770) 209-3390, or visit summittractors.com, or download the Summit Tractors Connect iOS or Android App.
Safe Harbor Statement: This press release contains forward-looking statements. These forward-looking statements are covered by the safe harbor for "forward-looking statements" provided by the Private Securities Litigation Reform Act of 1995. The words "believe," "expect," "anticipate," "plan," "would," "could," "potential," "may," "will," and other similar expressions are intended to identify forward-looking statements, which are generally not historical in nature. These forward-looking statements are based on our current expectations and beliefs concerning future developments and their potential effect on us. Although we believe the assumptions upon which these forward-looking statements are based are reasonable, these assumptions are subject to significant risks and uncertainties. These risk factors include, but are not limited to, the effect of the COVID-19 pandemic on our operations and financial performance; changes in the marketplace, including new products and pricing changes by the Company's competitors; and availability and price of raw materials. Additional risks and other factors that could cause actual results or events to differ materially from those contemplated in this release are detailed in the Company's reports on Forms 10-K and 10-Q filed with the Securities and Exchange Commission, especially the disclosures under "Risk Factors" in those reports. These forward-looking statements are made only as of the date hereof. The Company cautions that any forward-looking statements included in this press release are subject to a number of risks and uncertainties, and the Company undertakes no obligation to publicly update or revise any forward-looking statements, whether as a result of new information, changed circumstances or future events, or for any other reason, except as required by law.
SOURCE Titan International, Inc.
Media Contact:
Kim Boccardi
Titan International, Inc.
217-228-4032
Madison Aguirre
Summit Tractors, LLC