TOP 5 REASONS TO VISIT US AT FARM PROGRESS SHOW 2019
VISIT US AT BOOTH 933 AND OUR RIDE'N'DRIVE FIELD DEMONSTRATION AUGUST 27-29 IN DECATUR, IL
1. win the ultimate upgrade aT the lsw equipment rodeo
Join us at the first-ever LSW Equipment Rodeo to enter to win the LSW® Ultimate Upgrade – an LSW tire setup for the equipment of your choice.
Hear from tire expert Scott Sloan, Titan ag product manager and ag tech expert Chad Colby of Colby Ag Tech to learn about LSW. From 4WD flotation setups and MFWD row crop configurations to grain carts and combines, the LSW Equipment Rodeo will include three live demonstrations on the benefits of LSW tires on equipment for your whole farming operation. 
The LSW Equipment Rodeo will take place at 1:30PM each day of the show. 
Join our 
Facebook event page
to get updates on the Ultimate Upgrade and LSW Equipment Rodeo.
2. test drive the world's largest farm tires
Experience the LSW difference for yourself. Hop in the cab and put full power to the ground at our Ride 'N' Drive. We'll have 4WD and MFWD tractors available to test drive, including a tractor setup with the world's largest farm tires, the Goodyear Optitrac LSW1400/30R46.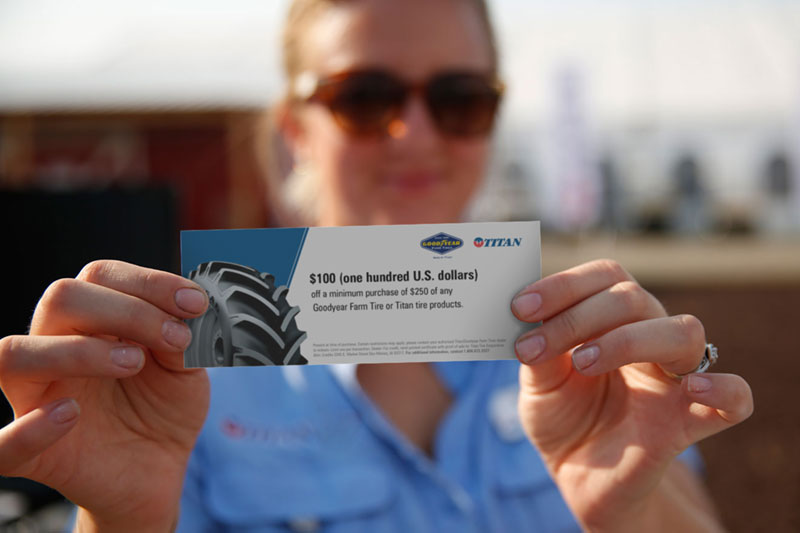 3. Rebates: $100 for all, $5,000 for one lucky winner
Want to win big at Farm Progress Show? Stop by our booth 933 and enter for your chance to win a $5,000 rebate giveaway to use toward any applicable Titan or Goodyear Farm Tire upgrade. As this year's wristband sponsor, all Farm Progress Show attendees can show their wristband in our booth to receive a $100 tire rebate.
Show this page on your mobile device at our booth and receive two entries (instead of one) for the $5,000 upgrade.
4. upgrade your compact tractor giveaway
Our new Goodyear R14 is the industry's first compact tractor tire that performs equally as well in snow, field, turf and road applications. We've expanded the line to include 18 sizes for tractors up to the 150 hp range — and in celebration, we want you to win a set. Simply stop in the booth and tell us why you need the Goodyear R14 on your compact tractor. You'll be entered to win a complete set for any applicable compact or subcompact tractor.
Show this page on your mobile device at our booth and receive two entries (instead of one) for the Goodyear R14 upgrade.
5. annual ffa tire auction
Since 1996, we've auctioned off hundreds of tires at farm shows, with 100 percent of the proceeds to support regional FFA chapters. The auctions allow show attendees to purchase Titan and Goodyear® Farm Tires at highly discounted prices. In 2018, we helped raise more than $91,000 for Iowa, Nebraska and Georgia FFA chapters.
The top FFA auction bidder receives an additional $1,000 rebate redeemable for Titan and Goodyear Farm Tire purchases. This year's auction will take place on Wednesday, August 28 at 2 p.m. at our booth 933.
Download the FFA tire auction list.